How is Xpanda Bra different from any other
maternity nursing bra?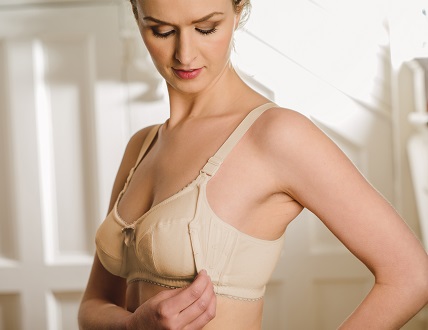 Maternity and nursing bras have barely changed since they were first invented, and it's not hard to find fault with designs currently on the market that don't take into account your desire for a design which is flexible, comfortable and made with great care and attention to detail.
Xpanda Bra is different. Our carefully designed maternity and nursing bras have adjustable cups, straps and rear fasteners, so you can control the comfort level as your body changes. Style and shape have not been compromised either, as this bra is wireless but has underwire level support. It's soft, totally breathable and adaptable so that it is suitable throughout the whole journey from early pregnancy to the very end of breastfeeding.
Xpanda Bra nursing bras have been carefully designed to give you maximum comfort when feeding your baby, with simple, yet practical adjustable cups, straps and band sizes to make breastfeeding easier. All fabrics are free of toxic substances and certified according to Oeko-Tex 100.
Xpanda Bra is designed in the UK made in the EU.
Xpanda Bra® was specifically designed for 3 reasons:
To be used during pregnancy whilst breasts are very tender, when breasts and body are fluctuating in size.
For breastfeeding mothers who need flexibility before and after feeds.
For breastfeeding mothers who are away from their child and don't have the opportunity to express or feed. A simple adjustment at the side of each cup will relieve any pressure or pain until you can either feed or express later.